Books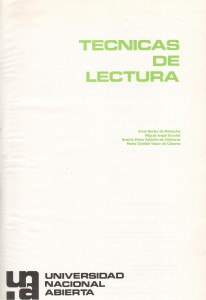 Técnicas de lectura
Techniques of Reading
Caracas: Editorial de la Universidad Nacional Abierta, 1978. 269 pages.
[Co-authors: A. Benko, M.C. Yapur and B.E.Saldaña]
ISBN: UNACI780007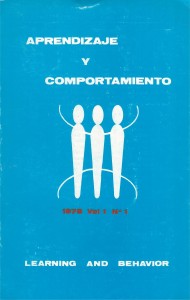 Learning and Behavior

Panama/Caracas: ALAMOC, 1978. Vol.I 152 pages. Vol II 233 pages.
[Editor and founder of this monographic journal from the Latin American Association of Behavior Modification]
ISBN: w/n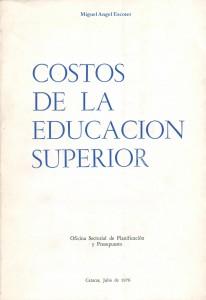 Costos de la Educación Superior
Costs of Higher Education
Caracas: Publicaciones del Ministerio de Educación, 1976. 127 pages.
ISBN: 1078262I9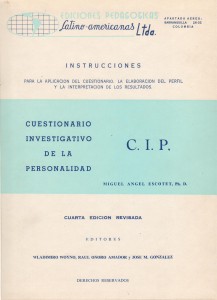 Cuestionario Investigativo de la Personalidad – Manual de Instrucciones, 4a. edición revisada.
Investigative Questionnaire of Personality – Instructions Manual, 4th revised edition
Barranquilla/Mexico: EPL and Manual Moderno, 1976. 121 pages.
ISBN: w/n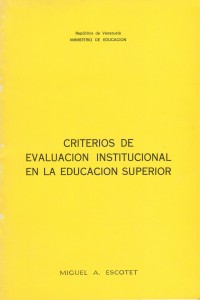 Criterios de evaluación institucional en la educación superior
Institutional Evaluation Criteria in Higher Education
Caracas: Ministerio de Educación, 1976. 82 pages.
ISBN: w/n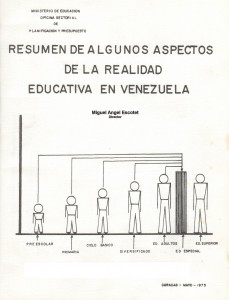 Resumen de algunos aspectos de la realidad educativa venezolana
A Summary of Some Aspects of the Venezuela Education Reality
Caracas: Ministerio de Educación, 1975. 421 pages.
ISBN: w/n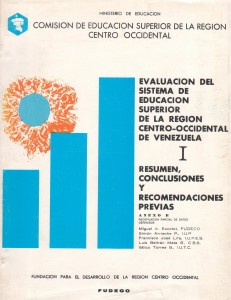 Evaluación del Sistema de Educación Superior – 5 volúmenes
Evaluation of the Higher Education System – 5 volumes
Barquisimeto: FUDECO-CESCO, 1974. 930 pages.
[Principal author. Other Co-authors: S. Arrieche, F.J. Lira, L.B. Mata and I. Torres]
ISBN: w/n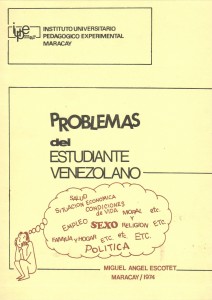 Problemas del estudiante venezolano
Problems of the Venezuelan Student
Maracay: Ediciones del IUPE, 1974. 102 pages.
ISBN: w/n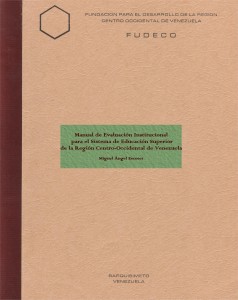 Manual de evaluación institucional para el sistema de educación superior de la región Centro-Occidental de Venezuela
Handbook of Institutional Evaluation for the Higher Education System of the West-Central Region of Venezuela
Barquisimeto: FUDECO, 1974. 58 pages.
ISBN: w/n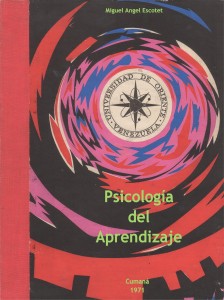 Psicología del Aprendizaje
Psychology of Learning
Cumaná: Editorial de la Universidad de Oriente, 1971. 311 pages.
ISBN: w/n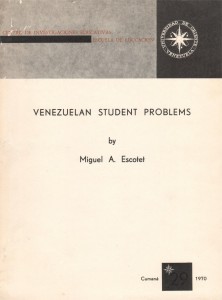 Venezuelan Student Problems

Cumaná: Ediciones de Universidad de Oriente, 1970. 98 pages.
ISBN: w/n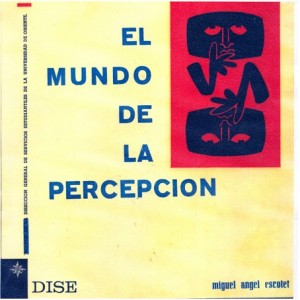 El Mundo de la Percepción
The World of Percepcion
Cumaná: Ediciones de la Universidad de Oriente, 1967. 143 pages.
ISBN: w/n